A Kansas City Based Karaoke Company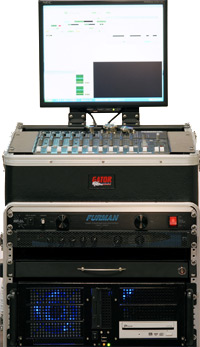 Ultimate Karaoke was started by Steve Douglas, a long time Kansas City KARAOKE FANATIC. "I have always strived to do Karaoke, how I wanted it done, when I was on the other side of the business as a singer."

"I got into Karaoke and just couldn't ever get enough. I have evolved as a singer just like I now see singers at our Karaoke shows evolve."

"I always said I will always use a great sound system, always use top quality microphones, always make sure the singers can hear themselves sing and I will always have an up to date, quality song library."

We currently have the ability to purchase and download Karaoke and DJ songs upon request. As long as we have Wi-Fi access, we can do this. We know that if you, the customer, wants to sing a song that we don't have, we are failing you as a full service Karaoke company. Every Karaoke company in this current state of technology should be able to do this!

We also have the ability to save all the songs you sing and this allows you to not have to go through a Karaoke songbook unless it is for a song you have not sang before. This is full service Karaoke folks!

We are also proud of the fact that we run Karaoke rotations off of our computers and not song slips. Why in this day and age of computers, someone is running the singers rotation off of songslips is beyond me. We have never done this. Once you put yourself in the rotation you are in for the rest of the night until you tell us you are leaving.

"Shouldn't all karaoke be like this? You bet it should. Life's way too short for bad karaoke!"
Our Karaoke Philosophy
The first step is just getting up there and doing it.

The second step is doing it again.

The third step is doing it again, but better...

We are here to help the beginner and the pro Karaoke singers feel at home at our shows.


Karaoke Firsts
"I can vividly recall that first time singing Karaoke.

My first attempt at singing karaoke was on my honeymoon in Las Vegas. I thought I did great, but my wife didn't remember it quite the same way (she later confided it was one train wreck song after another). Thankfully it was in Las Vegas and no one knew me. The blackmail video footage will probably surface one of these days.

I can also recall winning that first Karaoke contest at The Big Chill, and how great it felt. I also remember all the work it took to accomplish this. I will always appreciate the constructive advice from veteran Karaoke singers who helped me improve."


You're Welcome At Our Shows!
"Come to one of our shows and you will be greeted by me personally or the KJ at that show, because we truly want to know you, and help you in any way that we can. If it is just making that first step of getting up and singing, or helping you find songs that compliment your vocal style and range, we are glad to do that.

Nothing makes me feel better than to see you get up and sing a song that I suggested you sing, especially when that song becomes part of you repertoire."


Crossing Over To The Other Side (Of The Microphone)
Ultimate Karaoke was originally started to manufacture karaoke computers. It soon became obvious that if we were to be successful at building karaoke computers, we would have to know a lot more about how karaoke companies are run, and operated.

This led to providing karaoke services in the Kansas City area. We can provide the absolute best equipment in Kansas City. All our equipment is state of the art and up to date. We currently do 28 scheduled Karaoke shows and at least two weddings or extra events each week in Kansas City.


We Want To Be YOUR KARAOKE COMPANY
Our KJ's (Karaoke Jocks) are great at keeping the party atmosphere going. We are completely focused on your goals.

If it's a wedding we want your guests to have a great time, and we want you to have the wedding you have always dreamed of.

If it is a bar or club, we are focused on your bar making money. Sounds like a simple concept but very few Karaoke companies understand this.


Hire Us
If you are interested in hiring our karaoke company or purchasing Karaoke equipment, contact us now using the convenient form on the RH side of the page or call


Steve Douglas 816-217-9436
.