Turn-Key Systems Available
Don't want to try and engineer your own system. We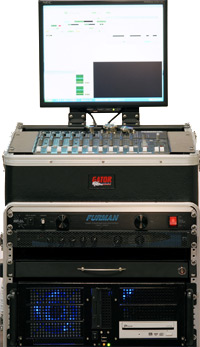 have Turn-Key systems available.

We will work with you to provide complete systems, that have been assembled, tested, and then road tested (if desired) to meet your every need. From Karaoke, DJ and combination Karaoke/DJ systems we will work with you to provide exactly what you need.

From mobile systems to fixed club systems let our engineers insure you have a reliable system with two to three level of redundancy if desired. No custom needs are to big or too small.
Components Used
We start with a rugged case, use only premium brand motherboards, 64 bit processors, premium hard drives and Plextor CD/DVD Burners.

These computers are constructed with one thought in mind: They have to be able to endure the punishment dished out on the road, and in bars and clubs each night.


Great Sound
The quality of the sound generated by a computer is entirely dependent on the quality of the motherboards onboard sound processor or a dedicated sound card. We only use dedicated sound cards so your systems sound quality, is great, even on our base model machine. We can install any sound card you like as an option.
Easy to Run
Running this computer couldn't be any easier. With a working knowledge of Windows, hosting a karaoke or DJ show is a snap. I have taught customers how to run the show in as little as two minutes.

The karaoke software has a built in manual that can be accessed while running your show.

Import Your CDG's
Importing your CDG collection is easily accomplished without typing song names or artists. You only have to type, when importing recent songs that haven't been updated in the database. A 1 million plus song database in our Karaoke software will keep you from typing every song and artist.

Simple Songbook Creation
Once your songs are imported, creating a songbook is just a few mouse clicks away. This is a huge problem with most Karaoke companies. I should know, the first karaoke services we ever provided were song book services for Karaoke companies.

This problem will immediately become a non issue. Songbooks are now generated with ease and accuracy. Our software can also track new releases and just print a separate "New Songs" songbook section for these tracks.

The software cost to run our recommended software usually cost less than most Songbook software solutions. You get the Karaoke Show management software plus the songbook software for one price.

The best part is it all works, it is easily and quickly learned and it all works together!

Please contact us for a detailed quote by using the contact us form in the top right hand column of this page.

We will arrange for a convenient time to discuss your desired options and optional accessories.