Ultimate Karaoke - Pool Parties
DJ / Karaoke For Your New Years Eve Party
This New Years Eve Party was for the players of the 2006 Kansas City Chiefs Football Team Players and their families. It was very important not to disclose to anyone where and when this party was to be held. The Chiefs had just clinched a playoff berth and they didn't want the entire city crashing their New Years Eve Party.

Everyone asks could any of the Chiefs sing? The answer is yes, every player who sang was fantastic. Brody Croyle, Chris Terry, Jared Allen, Chis Bober, Kyle Turley and Boomer Grigsby all got in on the action.

The team ended the night by singing, God Bless the USA and American Pie.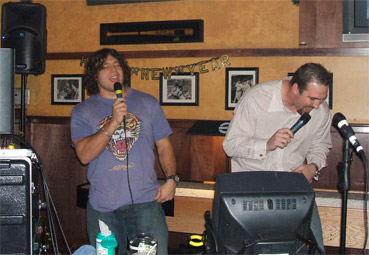 Chiefs Players Boomer Grigsby and Jared Allen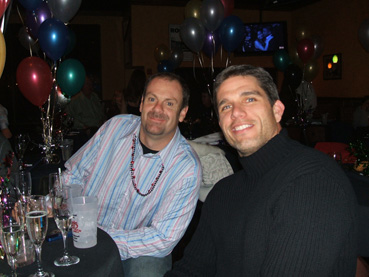 Chiefs Players Kendall Gammon and Trent Green

Contact us using the form on the Right hand side of the page and we will be more than happy to discuss how we can help make your New Years Eve Party a success and an event that will be talked about for years.

In addition to Karaoke and DJ services we can provide tables, PA systems, tents and Portable Restrooms.